The concept of "older person" is not statutorily defined, unlike a "child" who is legally defined by age criteria.[1] For the purposes of this chapter, we have used Australian Bureau of Statistics (ABS) taxonomy, which groups people into population age cohorts, and differentiates between "15–64", "65 years and over" and "85 years and over". People over 65 are generally classified as "older" for ABS purposes.[2] Very old persons are 85 years and older. All references are to chronological age, rather than reflecting an individual's physiological and functional state.[3]
The life expectancy for Aboriginal people is about 20 years less than the rest of the Australian population. Aboriginal Australians account for only one-half of one per cent (0.5%) of people 65 years and older.[4] Ageing can occur at a younger age and be more debilitating.[5]
Older people are therefore an extremely diverse group, as this term often refers to people up to 25 years apart in age. Differences in education, health, geographic isolation, mobility and cultural and linguistic background can make a vast difference between those at 65 and those at 85. In many cases, ageing issues also reflect those faced by people with disabilities 5.1 and age can exacerbate issues faced by those with ethnic or migrant backgrounds Chapter 3.1 and Aboriginal people Chapter 2.1.
The Commonwealth government has identified demographic trends which indicate that between 2010 and 2050, the 65 to 85 year cohort is expected to double and the 85 plus cohort is expected to more than quadruple from 0.4 million people today to 1.8 million people in 2050.[6]
It is important not to make assumptions about the capacity of an older person based on their age. Ageist attitudes, in other words, stereotyping someone on the basis of their age, is regarded as one of the main contributing factors to various forms of exploitation, abuse and neglect of some older people.[7]
The problem and prevalence of elder abuse was recognised in Australia and overseas in the late 1980s. However, it was not until 2016 that the NSW Government inquired into elder abuse to develop a policy, legal and service framework to address the issue.[83] The Australian Law Reform Commission completed an inquiry in 2017.[84] Like other forms of abuse, abuse of older people occurs in institutional and domestic settings.
Elder abuse is generally described as "a single or repeated act, or lack of action, occurring within any relationship where there is an expectation of trust which causes harm or distress to an older person".[85] While prevalence data in Australia is limited, estimates regarding the occurrence of elder abuse in NSW range from one in 20 people or 5%[86] and nationally from 2% to 6% of the older population.[87] This compares with reported rates of up to 14% internationally in high and middle income countries.[88] These approximations are believed to underestimate the true extent of abuse in older populations.[89]
Internationally, five categories of elder abuse are recognised.[90] These are:
1.

Physical abuse: Non-accidental acts that result in physical pain, injury or physical coercion.

2.

Sexual abuse: Unwanted sexual acts, including sexual contact, rape, language or exploitative behaviours, where the older person's consent is not obtained, or where consent was obtained through coercion.

3.

Financial abuse: Illegal use, improper use or mismanagement of a person's money, property or financial resources by a person with whom they have a relationship implying trust without the person's knowledge or consent.

4.

Psychological/emotional abuse: Inflicting mental stress through actions and threats that cause fear or violence, isolation, deprivation or feelings of shame and powerlessness. These behaviours — both verbal and nonverbal — are designed to intimidate and are characterised by repeated patterns of behaviour over time, and are intended to maintain a hold of fear over a person. Examples include treating an older person as if they were a child, preventing access to services and emotional blackmail.

5.

Intentional and unintentional neglect: Failure of a carer or responsible person to provide life necessities, such as adequate food, shelter, clothing, medical or dental care, as well as the refusal to permit others to provide appropriate care (also known as abandonment).
The Australian Network for the Prevention of Elder Abuse recognises a sixth category of social abuse, which includes the forced isolation of older people, with the sometimes additional effect of hiding abuse from outside scrutiny and restricting or stopping social contact with others, including attendance at social activities.[91]
Psychological and financial abuse are the most common types of reported abuse, although one study suggests that neglect could be as high as 20% among women in the older age group.[92] Frequently more than one type of abuse is suffered by the same person.
Elder abuse is underreported due to a range of internal and systemic barriers including family loyalty; fear of possible consequences/retribution; cognitive and/or physical barriers; lack of knowledge about access to support services or options; cultural, religious or generational barriers to seeking support; and literacy or language barriers: see further 11.4.1.
Elder abuse commonly occurs where the older person is dependent on another person for their daily needs.[93]
Research indicates women are more often victims of elder abuse than men, and this is disproportionate to the number of older women in the community. Data collected by helplines in Australia indicates that approximately 70% of elder abuse victims are women, although some research shows no significant difference in the rates men and women experience abuse, and older men were more likely to be victims of abandonment.[94] Rates of abuse tend to increase with age.
Intergenerational abuse within the family is thought to be the most common form of elder abuse — notably by adult children, but also by the older person's spouse or partner. Family violence exhibits similar dynamics. This is defined in s 4AB of the Family Law Act 1975 (Cth) as meaning "violent, threatening or other behaviour by a person that coerces or controls a member of the person's family or causes the family member to be fearful".
Risk factors in relation to being abused include:
dependence

significant disability or poor physical health

mental disorders (such as depression)

low income or socio-economic status

cognitive impairment

general inability to voice needs, and

social isolation.
Risk factors for committing abuse include:
depression

the toll of caregiving on the health and wellbeing of the carer

substance abuse/ alcohol and drug misuse

financial, emotional and relational dependence on the older person, and

a history of intergenerational abuse within families.[95]
In Aboriginal communities, perceptions about and experiences of elder abuse are complicated by family and community networks, cultural expectations relating to kinship structures, cultural values of sharing and reciprocity, and the extent to which grandparents, particularly grandmothers, are called upon to care for grandchildren.[96]
For some older culturally and linguistically diverse (CALD) people, limited English skills may contribute to social isolation, increase dependence on family members, and in turn increase vulnerability to exploitation and abuse.[97] Older people from CALD backgrounds are not homogenous, however in general, they have poorer socio-economic status compared with Anglo-Australians, and risk having differing cultural practices and norms which may lead to lack of understanding of and barriers to using services.[98]
Older lesbian, gay, bisexual, transgender, queer and intersex (LGBTQI) people may experience abuse related to their sexual orientation or gender identity. For example, an LGBTQI older person may be abused or exploited by use of threats to "out" a person. Abuse may be motivated by hostility towards a person's sexual orientation or gender identity. Additionally, older LGBTQI people have a higher exposure to other risk factors for abuse: for example, they have a higher likelihood of diagnosis of treatment for a "mental disorder" or major depression than the general population of older people.[99] They may also be at increased risk of social isolation, which may increase their vulnerability to abuse.
In the context of family violence, it has been suggested that in rural and regional areas, issues such as social and geographic isolation, limited access to support and legal services, as well as complex financial arrangements and pressures, including limited employment opportunities, may heighten vulnerability and shape the experience of violence.[100]
People with cognitive impairment or other forms of disability have been identified as being more vulnerable to experiencing elder abuse. Where a person has a disability, this will often be correlated with other risk factors, such as the need for support and assistance, as well as an increased likelihood of social isolation and lower socio-economic resources.[101]
Generally speaking, Australian State and Territory laws do not provide specific offences against older persons. However a range of types of conduct, which might be described as "elder abuse", are covered in all jurisdictions under offence provisions relating to personal violence and property offences. These include assault, sexual offences, kidnap and detain offences, and property and financial offences. The Law Council of Australia noted that "elder abuse" is rarely prosecuted under existing provisions.[102]
Some jurisdictions have offences for neglect,[103] although these are rarely utilised in respect of older people. These offences are generally framed as "failing to provide necessaries or necessities of life, including adequate food, clothing, shelter and medical care". There are also comprehensive family violence frameworks in all jurisdictions that provide for quasi-criminal, protective responses to abuse of older people in domestic settings.[104]
In their critique of legal responses to elder abuse, Harbinson et al[105] observe:
constructions of ageing that view older people as frail and vulnerable have led to a focus on providing legal remedies for mentally incapacitated older people, without the clear understanding that most older people are not mentally incapacitated.
In response to a number of reviews and inquiries highlighting the need for better safeguards for abuse, neglect and exploitation, the NSW government enacted the Ageing and Disability Commissioner Act 2019. The Act establishes a Commissioner, responsible for responding to abuse, neglect and exploitation of people with disability and the elderly in home and community settings. Its main functions include:[106]
Receiving, triaging and investigating allegations of abuse, neglect and exploitation.

Providing support to vulnerable adults and their families and carers during and following an investigation

Reporting and making recommendations to government on related systemic issues.

Raising community awareness — including how to prevent, identify and respond to matters.

Administering the Official Community Visitors program in relation to disability services and assisted boarding houses.
The Ageing and Disability Commissioner officially commenced on 1 July 2019.
11.2.1

Abuse and neglect in residential care
Generally
There is no comprehensive data available on the prevalence of abuse of people in residential aged care. On 30 June 2018, there were 180,923 people receiving permanent residential care Australia-wide.[107] Abuse may be committed by paid staff, other residents in residential care settings, or family members or friends. Recent media focus on cases of abuse by paid staff in residential care facilities has brought this issue to public attention.[108] The Commonwealth Government announced the terms of reference for the Royal Commission into Aged Care Quality and Safety on 9 October 2018. See further at https://agedcare.health.gov.au/royal-commission-into-aged-care-quality-and-safety. The Royal Commission interim report is due to be delivered by 31 October 2019, and its final report no later than 30 April 2020.[109]
There is data available on numbers of alleged or suspected "reportable" assaults in residential aged care notified to the Commonwealth Department of Health each year. However, as the Department has noted, this information "reflects the number of reports made by providers … and does not reflect the number of substantiated allegations".[110] Reportable assaults also capture a more narrow range of conduct than what may be described as elder abuse.
Under the Aged Care Act 1997 (Cth), providers of residential aged care must report to the police and to the Department of Health, incidents of alleged or suspected reportable assaults within 24 hours of the allegation, or when the approved provider starts to suspect that a reportable assault has occurred: s 63-1AA(2). A "reportable assault" is defined to mean an unlawful sexual contact, unreasonable use of force or assault inflicted on a resident of an aged care home: s 63-1AA(9).
The requirement to report does not apply if the approved provider meets the conditions detailed in principle 53 of the Accountability Principles 2014, that is, if the provider determines within 24 hours that the assault was as a result of resident-to-resident aggression and that the alleged offender has previously been assessed with a cognitive impairment, and that a behaviour management plan has been put in place within 24 hours of the allegation or start of suspicion of a reportable assault: s 63-1AA(3).
Restriction on movement (including chemical sedation and inappropriate use of drugs), visitation and neglect of older persons in care which may amount to elder abuse are not captured by this legislation.
Sexual abuse in residential care
In 2012, the Department of Health and Ageing (Cth) received notification of 378 alleged unlawful sexual contacts occurring in residential aged care facilities across Australia.[111] Reports of sexual assault in aged care settings are often dismissed or not appropriately followed up due to procedural difficulties experienced, particularly where the victim is suffering from a cognitive or communicative impairment, mental illness or physical disability.[112]
For many older people, domestic violence has been considered a "family matter" in which police would rarely intervene, and has not historically been treated as a criminal offence. Given these preconceived views, and the fact that the Crimes (Domestic and Personal Violence) Act 2007 envisages that AVOs can be made following formal application or as a consequence of a person being charged, older people may be unaware or unwilling to apply for an ADVO or APVO. Like all cases of family violence, the matter may be complicated by fear of losing their home or income, intergenerational violence, and dependency on adult children to provide care.[113]
Older people may seek protection from family violence under the Crimes (Domestic and Personal Violence) Act 2007 (NSW). The Justice Legislation Amendment Act (No 3) 2018 amended the Crimes (Domestic and Personal Violence) Act 2007 by inserting s 5A to provide that a personal violence offence by a paid carer against a dependant is treated as a domestic violence offence and an ADVO may be made for the dependant's protection. However, a personal violence offence committed by a dependant against a paid carer is not a domestic violence offence. The paid carer may still apply for an apprehended personal violence order against the dependant.
Under s 27 of the Act, it is mandatory for police to apply for an ADVO if the police officer suspects or believes that a domestic violence offence or stalking or intimidation offence has been or is likely to be committed. The effect of s 5A is that this continues to be the case where a paid carer is alleged to have committed a domestic violence offence against a dependant, but it will no longer be mandatory where it is alleged that a dependant has committed a domestic violence offence against a paid carer. These amendments commenced 17 December 2018.
The vulnerable witness provision may apply to an older person in APVO and ADVO proceedings if the older person is cognitively impaired. Section 306ZB of the Criminal Procedure Act 1986 (NSW) permits a vulnerable person to give evidence in apprehended violence proceedings by CCTV, unless he or she is the defendant. A "vulnerable person" is a child or cognitively impaired person: s 306M(1). Refer to [22-100] of the Local Court Bench Book in relation to procedures for evidence from vulnerable persons — Div 4, Pt 6, Ch 6 Criminal Procedure Act 1986 applies to proceedings in relation to the making, variation or revocation of AVOs: s 306ZA.
11.2.3

Succession/financial/capacity abuse
This is the most reported form of elder abuse, regarded as vastly unreported. Financial abuse is regarded as the "illegal use, improper use or mismanagement of an older person's money, financial resources, property or assets without the person's knowledge or consent".[114] It includes misuse of powers of attorney[115] by spending an older person's money in ways not in their best interests or for personal gain; coercing an older person to become a guarantor; promising care in exchange for money or property then not providing this; and pressuring an older person to take out a loan which is not for their benefit.[116] The NSW Government inquiry and ALRC inquiry viewed financial abuse of older people as "a widespread and increasing problem" with "inheritance impatience" often being a factor in such cases.[117]
In 2016–2017, the NSW Elder Abuse Helpline and Resource Unit received 1800 calls, 39% of which were related to financial abuse and 58% were related to psychological abuse, which often co-occurs with financial abuse.[118]
Section 49 of the Powers of Attorney Act 2003 (NSW) provides that it is an offence if an attorney acts after the principal has terminated the enduring power of attorney appointment. There is a maximum penalty of imprisonment of 5 years. However, this is of limited use in elder abuse situations, where the misuse usually occurs while the power is still in effect.
In some circumstances, offences such as fraud, deceptive conduct/obtain benefit by deception, stealing and other property-related offences are available to prosecute abuse of older people's estates and finances.
Presumption of advancement
Coinciding with the increase in family accommodation agreements (such as granny flats or an agreement to allow a parent to reside in the premises with adult children), is an increase in instances of elder financial abuse in relation to family accommodation agreements.[119]
Such agreements are usually undocumented and, if they sour, may lead to disputes and litigation if the parent has made a financial contribution to the acquisition or improvement of property.
Such litigation usually involves the defendant seeking to rely on the presumption of advancement. The law presumes that, in certain circumstances, where person A has purchased property in the name of person B, they intended to make a gift to person B. To rebut the presumption, the purchaser must lead evidence of their actual intention which is inconsistent with the application of the presumption (ie evidence that, at the time of the purchase, the purchaser did not intend for the property to be a gift). The onus is on the purchaser to prove this evidence on the balance of probabilities. The evidence must relate to the purchaser's intention at the time of the purchase. It will not be sufficient to show that the purchaser subsequently had a change of heart.
In Spink v Flourentzou[120] the court held that the presumption of advancement should only arise where all the joint recipients of the money or property are in a relationship with the payer that is of a category that gives rise to the presumption: at [308]. In this case, the presumption did not arise because one of the recipients was the son-in-law. The court ordered that the plaintiff was entitled to the return of her contribution to the acquisition and renovation of the property, plus interest, secured by an equitable charge over the property: at [293].
Capacity abuse
In NSW, the Office of the Legal Services Commission dealt with 35 "capacity complaints"[121] (that is, lawyers failing to identify warning signs of potentially impaired capacity, acting when client capacity was clearly impaired, not seeking appropriate medical input on client decision-making capacity) between 2011 and 2015. By 2016, the number of capacity complaints was 1.2% of all written complaints received, rising from 0.4% in 2012.
Guardianship and financial management orders may be sought from the NSW Civil and Administrative Tribunal as a way of addressing financial abuse of an older person with capacity issues.
The demographic reality of an ageing population means that the likelihood of challenges to wills on the ground of testamentary capacity is increasing.[122] Where there is doubt about a person's capacity, the transaction is always in some danger of being attacked unless it can be shown that the action was a free will action of the elderly person.[123] This is most readily demonstrated by the older person obtaining adequate, competent and relevant independent legal advice (well) prior to the impugned transaction.[124]
The Law Society of NSW publication "When a client's mental capacity is in doubt: a practical guide for solicitors"[125] provides some guidelines for solicitors to assist in the assessment of capacity when taking instructions.
In Ryan v Dalton [2017] NSWSC 1007 at [107], the court made a number of observations for dealing with the "increasing number" of challenges to testamentary capacity. Kunc J, noting the ALRC recommendation 8-1,[126] and bearing in mind matters such as elder abuse in probate matters, undue influence and testamentary capacity suggested:
It seems to me that the following is at least a starting point for dealing with this increasingly prevalent issue:

1.

The client should always be interviewed alone. If an interpreter is required, ideally the interpreter should not be a family member or proposed beneficiary.

2.

A solicitor should always consider capacity and the possibility of undue influence, if only to dismiss it in most cases.

3.

In all cases, instructions should be sought by non-leading questions such as: Who are your family members? What are your assets? To whom do you want to leave your assets? Why have you chosen to do it that way? The questions and answers should be carefully recorded in a file note.

4.

In case of anyone:

(a)

over 70;

(b)

being cared for by someone;

(c)

who resides in a nursing home or similar facility; or

(d)

about whom for any reason the solicitor might have concern about capacity;

the solicitor should ask the client and their carer or a care manager in the home or facility whether there is any reason to be concerned about capacity including as a result of any diagnosis, behaviour, medication or the like. Again, full file notes should be kept recording the information which the solicitor obtained, and from whom, in answer to such inquiries.

5. Where there is any doubt about a client's capacity, then the process set out in sub-paragraph (3) above should be repeated when presenting the draft will to the client for execution. The practice of simply reading the provisions to a client and seeking his or her assent should be avoided.
The NSW Court of Appeal found that a solicitor should have ceased to act on being instructed by a wife attorney to transfer a farm in the sole name of her husband to her four daughters for $1.00 when the solicitor knew that (a) the husband had now lost capacity (b) the transaction was improvident (c) the transaction was inconsistent with the husband's will which left the farm to his son and (d) he acted for both parties. Though the land had by now been registered in the daughters' names, the court found that the equity could be traced with the result that the daughters were obliged to account for the loss to the now deceased husband's estate.[127]
See further 11.5.1 — Legal capacity.
11.3

Older persons and crime
The Law and Justice Foundation conducted an extensive review of older people's access to law.[164] This highlighted both general barriers and particular barriers for older people in accessing legal services. The Law Council of Australia released their final report on the Justice Project in 2018.[165] Examples of particular barriers are those relating to specific groups of older people, such as those living in residential aged care facilities and retirement villages; older people with specific health issues; those who have experienced abuse; those with difficulties with financial arrangements; and issues concerning older people with diminished capacity who require decision-making support.
Older people with a disability will require different levels of support in order to make their own decisions. This reflects the move toward supported decision-making principles that are part of the Convention on the Rights of Persons with a Disability,[166] the recommendations of the ALRC Report on Equality, Capacity and Disability,[167] and recent proposals to amend the NSW Guardianship Act 1987 to legislate for supported decision-making instead of substitute decision-making.[168]The NSW Government has enacted the Ageing and Disability Commissioner Act 2019 in response to a number of reports and inquiries, to assist in raising awareness of abuse, neglect and exploitation of older persons. This Act commenced on 1 July 2019.
The general barriers identified as impacting on an older person's access to legal services included:
a lack of awareness of where to obtain legal information and assistance

a lack of appropriately communicated legal information

the high cost of legal services (financial barriers)

a lack of interest by some legal practitioners in older clients

potential conflict of interests when legal practitioners for older people are arranged by family members

difficulties in accessing legal aid, including restrictive eligibility tests

technological barriers, particularly for telephone and web-based services

a lack of availability of legal aid for civil dispute

lack of specialised legal services for older people, particularly in rural, regional and remote areas

lack of resources in community legal centres to tailor their services to the needs of older people.
See further Legal Aid NSW "Policy Bulletin 2019/12", where the Legal Aid NSW Board approved changes to eligibility policies to clarify that legal aid is available to people who are experiencing, or are at risk of, elder abuse.[169]
Some of the specific issues impacting older people and their access to justice are set out below.
11.4.1.1

Disabilities, mobility and vulnerability
Some older persons may suffer from physical disabilities associated with ageing, such as deafness or a hearing impairment, blindness or a visual impairment, or fatigue or frailty.
Older people may require assistance in the form of a walker or walking stick. Courtroom facilities may be inaccessible (for example, stairs rather than lifts, narrow doors, no nearby parking, heavy doors) which make it difficult for them to participate.
Some older people may be unable to sit or stand in one position either at all or beyond a particular time or may become easily fatigued. Refer to Section 5 of this Bench Book for further information regarding practical considerations for people with disabilities.
Alzheimer's disease is the most common form of dementia. As Alzheimer's disease affects each area of the brain, certain functions or abilities are lost. Memory of recent events is the first to be affected, but as the disease progresses, long-term memory and other aspects of behaviour are affected.
Additional barriers may limit the ability of older people with Alzheimer's disease or other dementias, to participate in the legal process. These include:
communication barriers: the language used may be too complex, fast or abstract, and/or the proceeding too lengthy. They may become easily distracted, very jumbled, severely distressed, anxious, frightened, aggressive or angry

fatigue

difficulty understanding or recalling dates, such as when events occurred, or appointments, such as court dates, and

as well as facing one or more of the above barriers, their communication barriers may be exacerbated by, for example, being unable to concentrate and/or process information easily, memory difficulties and/or by having disinhibited behaviour.
These barriers may be taken into consideration when the court is deciding whether or not to disallow a question in cross-examination: see s 41(2) of the Evidence Act 1995 (NSW) and see further at 11.3.3 — Older persons as witnesses in criminal proceedings.
The vulnerable witness provisions may also apply to an older witness who is cognitively impaired: see Ch 6, Pt 6 of Criminal Procedure Act 1986 (NSW) and 11.5.1.1 — Competence of an older person to give evidence.
Older Australians are embracing the digital life. Seventy-nine per cent of older Australians have accessed the internet at some point in their lives.[170]Although the internet has the potential to assist older people with information needs, according to the Australian Digital Inclusion Index (ADII) 2017, Australians aged 65 years and over are the most digitally excluded age group.[171] This is despite initiatives such as "Tech Savvy Seniors" digital literacy program, and the Tech Savvy Elders Roadshow, targeting older Aboriginal people, which provides free or low cost courses to seniors and was initiated in 2013. Aboriginal older people tend not to use institutional sources, even those set up for them by governments; rather they rely on social and family networks.[172] The penetration of new technology among certain groups, especially older people from CALD backgrounds, Aboriginal older people and those in remote areas, still remains low.[173] Further, the level of online engagement reduces in the older age cohorts.[174]
For some older persons, the shift to online services and communication has made it more difficult to find sources of legal information and access legal assistance.[175] Further, effective internet searching is a complex skill.[176] In submissions to the ALRC inquiry, it was noted that many government agencies require online form completion, which makes access (particularly for those in rural and remote areas) more difficult. Demographic differences reveal that within the older age group who are "offline", they are more likely to be unemployed, have no tertiary education, have lower income, live outside major capital cities and be single/not married.[177]
Along with privacy concerns, older Australians frequently cite concerns about security and viruses as a reason for not accessing the internet.[178] These are valid concerns as people over the age of 65 years are increasingly vulnerable to scams, particularly those involving the loss of money.[179] In 2017 alone, there were almost 16,000 reports involving a loss of over $9 million to Scamwatch by people aged 65 years over.[180]
Vision decline, motor skill diminishment and cognition effects can also impair an older person's ability to use a computer (although many government websites provide speech-enabled devices).
The lack of access to, and confidence with, information technology may be relevant where an older person is called for jury duty or appears as a witness or complainant in a trial, particularly in regional and remote areas.
11.4.3

Rural, regional and remote (RRR) issues
Lower population density and more geographically dispersed populations make it more difficult and expensive to create and maintain comprehensive service infrastructure such as transport, health care, social services, education, information and communications technology and culture, compared to urban areas. Consequently, rural populations have less access to services and activities and their situation may be further aggravated when combined with poorer socio-economic conditions. This puts rural populations at a disadvantage compared to urban ones and can be particularly problematic for older people who may face a greater risk of social isolation, reduced mobility, lack of support and health care deficits as a result of the place in which they live.[181]
Research consistently identifies the RRR population as having particular vulnerability to legal problems, a lack of capacity to resolve legal problems on their own and limited access to professional legal services. For older adults, legal problems can arise in matters that include:
the complexity of assets held by families resident in rural areas such as farming properties; lack of access to services that may assist with asset management arrangements and responses to situations where elder abuse is occurring or expended; and the dynamics involved in reporting or disclosing elder abuse in rural communities, where shame and concern to protect the family name potentially play an inhibiting role.[182]
Lawyer availability in some RRR areas varies and can impact a person's access to justice. Some areas in NSW have no or few registered practising solicitors. Studies by the Law and Justice Foundation of NSW[183] revealed that there were 19 local government areas (LGAs) in NSW without a single registered practising solicitor (private or public), and a number of other LGAs had only one or two. Access to solicitors in these outer regional, remote and very remote areas typically involved one or more parties travelling substantial distances. Further, the impacts on the justice system and rural communities of reduced levels of legal aid funding and increased demand for grants of legal aid are perceived as broad and adverse.
Limited access to transport together with mobility restrictions for some older people compound the barriers they face in seeking legal assistance.
The lack of access to legal advice is compounded by patchy, unreliable or absent mobile coverage in many rural and remote areas. Internet services, particularly in more isolated areas, only make available relatively small download allowances and these come at a much higher cost and slower speed than those services available in metropolitan areas.[184] Data capped plans are common in non-urban areas, and would affect the capacity of those outside major capital cities to access some digital content.
Isolation also puts an older person at risk of neglect and financial exploitation: see, for example, NAD [2018] NSWCATGD 1 where an 84-year-old woman of Turkish heritage was being cared for by her son in regional NSW. Mrs NAD's daughter initiated proceedings seeking the appointment of a guardian and financial manager for her mother, alleging the son was controlling, bullying and aggressive to the mother, neglected her and allowed no visitors to the home. A guardianship and financial management order was made in respect of Mrs NAD, as the tribunal found her interests were paramount.
Figure 1 – Map of NSW showing areas of varying geographic remoteness [185]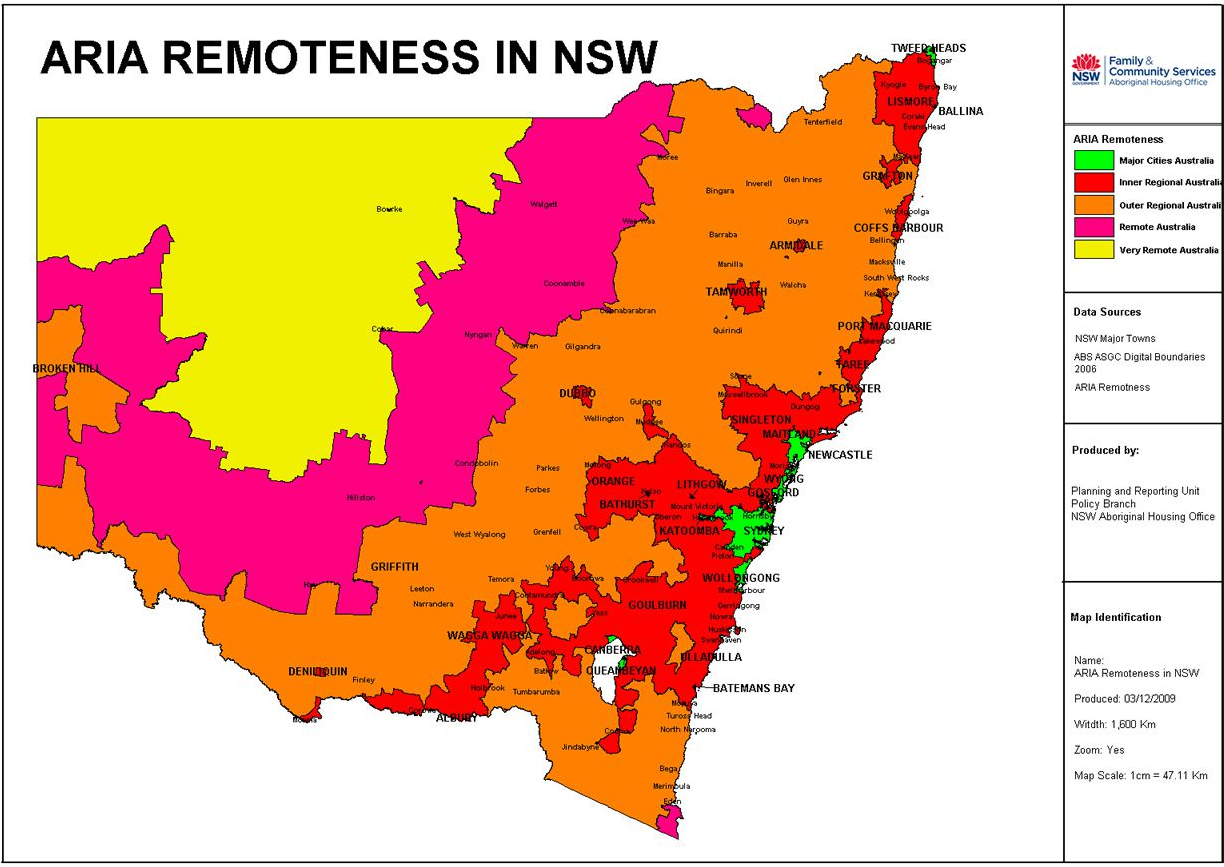 11.5

Practical considerations
Not all older clients will experience a cognitive impairment, however, dementia is the leading cause of disability in people aged 65 years and over.[186]
Capacity is the ability to make decisions. It is therefore task or domain-specific, that is, peculiar to the particular type of decision made. Thus, the capacity task is different for entering into a contract; executing a power of attorney, will or deed; appointing an enduring guardian or an attorney under a power of attorney; or consenting to treatment, divorce or marriage.[187]
The degree of complexity of an older person's affairs directly affects the level of cognitive function required to make a testamentary instrument. That is, the more complex the action, the more cognitive function is required.[188] This represents an aspect of inherent vulnerability which greatly impacts legal capacity.[189] A person's inherent vulnerability may be exacerbated by situational factors, including family conflict. See further [11.2.3] — Succession/financial/capacity abuse.
The current NSW guidelines for capacity assessment caution lawyers about the potential for undue influence and the need to safeguard older people from abuse,[190] however, family conflict is not raised separately as a factor that may influence decision-making capacity.
11.5.1.1

Competence of an older person to give evidence
Competence is the capacity of an older person to function as a witness. The rules for an older person with regard to their capacity to give evidence are no different to any other person. The Evidence Act 1995 (NSW) provides, except as in ss 13 to 19 inclusive, that every person is competent to give evidence and a person who is competent to give evidence about a fact is compellable to give that evidence: s 12.
An older person is not an inherently incompetent witness by reason of their age, however adjustments may need to be made to accommodate the needs and particular health issues the older witness has. See below at [11.5.3]ff.
The credibility and reliability of an older witnesses' evidence depends on their accuracy, confidence, quality of observation, and how convincing their evidence is. A study in the UK examined police officers' perceptions about older witnesses, their current interviewing protocol and challenges involved with interviewing older witnesses.[191] Over half the officers surveyed perceived older witnesses to be less reliable and less thorough than younger witnesses. Many police officers lacked confidence in dealing with the emotional distress and memory loss often displayed by older witnesses and victims. Several officers stated they were inadequately trained and had insufficient time to devote to interviewing in general. Their results suggested that police and jurors frequently consider older adult witnesses and victims to be less reliable and thorough than young adult witnesses, which can present numerous challenges in the court process.[192]
Older people with dementia or other age-related diseases may lack capacity for some decisions. This means that not only their capacity to understand information and to make decisions change over the course of a short period of time, it may also fluctuate in relation to different types of decisions. A person with fluctuating capacity, for example, may be able to decide to give a witness statement but be unable to understand and make decisions in relation to taking part in the court process.[193]
As regards capacity and the interface with the law, certain health professionals such as psychiatrists, geriatricians or neuropsychologists may give opinions on clients who have been arrested or charged, as to whether they have capacity to be interviewed and whether they are fit to plead. There are established criteria for the assessment of capacity in these situations.
When considering a person with dementia's fitness for trial or capacity to give evidence, the following needs to be considered:[194]
(1)

The person's ability to give a clear and consistent account of the incident

(2)

Whether the evidence has any delusional quality, making it more probable that the evidence is affected by the nature of the mental illness

(3)

Whether the person appears to understand the role and nature of court proceedings and their obligations

(4)

The person's vulnerability to pressure of cross-examination and the possibility of the court proceedings affecting their own mental health, and

(5)

The possibility of further cognitive deterioration and the need for re-assessment should there be long delays in court proceedings.
So far as "vulnerable persons" are concerned, there may be an issue as to competence to give evidence. Section 306M(1) Criminal Procedure Act 1986 defines a "vulnerable person" as a child or cognitively impaired person. Section 306M(2) provides that "cognitive impairment" includes:
an intellectual disability

a developmental disorder (including an autistic spectrum disorder)

a neurological disorder

dementia

a severe mental illness; and

a brain injury.
The first step is to establish that a witness who is a vulnerable person is competent to give evidence, whether sworn or unsworn, about a fact. The next step is to establish whether that witness is competent to give sworn evidence about that fact.
See Local Court Bench Book [10-000]ff regarding evidence from vulnerable persons and their competence to give evidence, and the ways in which evidence of a vulnerable person may be given.
11.5.1.2

Older people and the NSW Guardian ad Litem panel
In civil proceedings, an older person who does not have the ability to instruct their own lawyer or to self-represent may have a Guardian ad Litem appointed. A Guardian ad Litem (GAL) is someone who is responsible for the conduct of legal proceedings for a person, where that person is:
incapable of representing him or herself

incapable of giving proper instructions to his or her legal representative, and/or

under legal incapacity due to age, mental illness or incapacity, disability or other special circumstances in relation to the conduct of the proceedings.[195]
11.5.2

Language and communication
Initial considerations
Procedural fairness requires that, as with anyone who appears in court, an older person understands what the proceedings are about, the meaning of any questions asked of them, and is confident that the court adequately understands their evidence and replies to questions. An accused in a criminal trial in NSW has a right not to be tried unfairly, usually expressed as a right to a fair trial.[196] Note that many people lose their hearing slowly as they age, and courts need to ensure that these older people are assisted to enable them to participate in the hearing.
As indicated in 5.4.1, some people with disabilities may need some form of communication aid to be made available for them to be able to communicate their evidence and/or hear what is being said by others. People with language barriers may need the services of an interpreter or translator: see further at 3.3.1.1. They may also need some adjustments to be made in the level or style of language used, and/or the manner in which they are given information about what is going on.
Some people who do not need a communication aid or interpreter may need adjustments to be made in the level or style of language used and/or the manner in which they are given information about what is going on.
11.5.4

Explaining court proceedings and processes adequately
Many barriers for older people accessing the law are distinctly personal: declining health and mobility, disability, ethnicity, language, gender and social isolation. Some distrust the police and legal services based upon past discriminatory experiences.[197] It is important to explain court proceedings and processes adequately to an older person to ensure procedural fairness. This is particularly relevant to an older witness who may be a victim of sexual assault.
Points to consider:
11.5.5

Terminology and modes of address
Points to consider (and note that many of these points apply to senior lawyers and jurors, not just to litigators and witnesses who are older).
11.5.6

Oaths, affirmations and declarations
Points to consider:
11.5.7

Timing of proceedings, breaks and adjournments
When older people become involved with the justice system, or attend court, their needs are likely to be similar to those of other age groups unless they have a disability. For these older people and the very old, some adjustments should be considered before proceedings start or at the time the person first appears in court.
Some older people have physical disabilities or other limitations, and may be experiencing ill health, so it is important to be mindful to provide the same practical requirements as those listed in 5.4.1 and 5.4.4 of the this Bench Book.
Some particular points to consider in relation to older persons include:[200]
11.6

Further information or help
The following organisations can provide information or expertise about older people, or related issues and also about other appropriate community agencies:
Ability Incorporated Advocacy Service
100 Main Street Alstonville NSW 2477
Ph: 02 6628 8088
Web: https://abilityadvocacy.org.au/
Provides assistance to all people with a disability, their parents and carers who live in the areas of Tweed to Taree including New England, Armidale, Glen Innes and Inverell.
Aboriginal Legal Services (NSW/ACT)
619 Elizabeth Street Redfern NSW 2016
Ph: 02 8303 6600
Web: www.alsnswact.org.au/
Provides free advice and assistance to Indigenous people and their families (including people in custody), particularly in criminal matters. There are five regional organisations in NSW with 25 offices.

Aged Care Quality & Safety Commission (Cth)
Ph: 1800 951 822 (free call)
Email: info@agedcarequality.gov.au

The role of the Aged Care Quality and Safety Commission (Commission) is to protect and enhance the safety, health, well-being and quality of life of people receiving aged care.
Combined Pensioners & Superannuants Association
Level 3, 17-21 Macquarie St
Parramatta NSW 2150
Ph: 9281 3588
Web: http://cpsa.org.au/
CPSA provides pensioners, superannuants and low-income retirees with information and advice and acts as an advocate on a variety of issues, including aged care, health and housing.
Council on the Ageing (NSW)
Level 11 31 Market Street
Sydney NSW 2000
Ph: 1800 449 102
Web: https://cotansw.com.au/
COTA (NSW) is a not-for-profit, community organisation serving all persons aged 50 and over in NSW. It aims to mobilise older people, those who work with them, government and the community towards achieving well-being and social justice for older people.
Dementia Australia NSW
Macquarie Hospital Building 21,
Gibson-Denney Centre Cnr Coxs & Norton Roads North Ryde NSW 2113
Ph: 02 9805 0100
Email: nsw.admin@dementia.org.au
Web: https://dementia.org.au/
A national peak body for people, of all ages, living with all forms of dementia, their families and carers.
Disability Council NSW
Level 3, 4-6 Cavill Ave Ashfield NSW 2131
Ph: 02 8879 9175
Email: DisabilityCouncil@facs.nsw.gov.au
The Disability Council is the official advisory body to the NSW government.
Elder Law at Western Sydney
Western Sydney University Locked Bag 1797, Penrith NSW 2751
Web: www.westernsydney.edu.au/elr
Elder Law at Western Sydney publishes the Elder Law Review, raising awareness within the Australian and international legal community of legal issues faced by older persons.
Financial Rights Legal Centre
Level 1, 72-80 Cooper Street
Surry Hills NSW 2010
Ph: 1800 007 007
Web: http://financialrights.org.au/
Offer advice and advocacy for consumers in financial stress.
Law Access
Dept of Justice
Parramatta Justice Precinct
160 Marsden Street Parramatta NSW 2124
Ph: 1300 888 529
Web: http://lawaccess.nsw.gov.au/
LawAccess NSW provides a single point of access to legal and related assistance services in NSW.
Law Society of NSW
170 Phillip Street, Sydney NSW 2000
Ph: 02 9926 0333
Web: https://lawsociety.com.au/

The Solicitor Referral Service of the NSW Law Society refers clients who can pay for legal services to appropriate law firms within NSW. The law society also publishes a number of helpful resources such as the Guidelines for Solicitors preparing an Enduring Power of Attorney, which can be obtained through the society website.
Legal Aid of NSW
323 Castlereagh Street Haymarket 2000
Ph: 02 92195000
Fax: 02 92195935
Web: https://legalaid.nsw.gov.au/
Legal Aid NSW provides legal services to disadvantaged clients across NSW in most areas of criminal, family and civil law. They also deliver services to people experiencing or at risk of elder abuse.
My Aged Care
Ph: 1800 200 422
Web: https://myagedcare.gov.au/
Australian government website which provides contacts and links to government and non-government information of relevance to seniors, veterans, retirees and those about to retire.
National Seniors Association
Ph: 1300 765 050
Web: https://nationalseniors.com.au/about/branches?state=NSW
National Seniors Australia branches ensure seniors voice is heard on issues affecting millions of older Australians.
NSW Elder abuse helpline and resources
Ph: 1800 628 221
Offer a free service that provides information, support and referrals relating to the abuse of older people living in the community across NSW. The service is confidential and callers remain anonymous.
NSW Family & Community Services Family and Community Services Ageing, Disability and Home Care
Locked Bag 10, Strawberry Hills NSW 2012
Ph: 02 9377 6000
Web: https://facs.nsw.gov.au/
Family and Community Services are involved in ageing, disability inclusion, carers and advisory councils.
Older Womens Network (OWN)
8-10 Victoria Street Newtown NSW 2042
Ph: 02 9519 8044
Web: http://ownnsw.org.au/
OWN Groups promote the rights, dignity and wellbeing of older women. Groups organise a wide range of activities and advocate on issues of concern to older women.
Public Interest Advocacy Centre
Level 5, 175 Liverpool St
Sydney NSW 2000
Ph: 02 8898 6500
Web: https://piac.asn.au/
The Public Interest Advocacy Centre is an independent, non-profit legal and policy centre. Using its legal and policy skills, PIAC makes strategic interventions in public interest matters to foster a fair, just and democratic society and to empower citizens, consumers and communities.
Seniors Rights Service
Level 4, 418A Elizabeth St
Surry Hills NSW 2010
Ph: 1800 424 079
Web: https://seniorsrightsservice.org.au/
Seniors Rights Service is a community legal centre that protects the rights of older people. They provide telephone advisory services, advocacy, legal advice and educational services.
Reports
Advocare, National elder abuse, Annual report 2015-2016, Advocare Incorporated, 2016.
Australian Law Reform Commission, Elder Abuse — a national legal response, ALRC Report 131 (Final Report), 2017.
Australian Law Reform Commission, Equality, capacity and disability in Commonwealth laws, ALRC Report 124, November 2014.
A Wiglesworth and L Mosqueda, People with dementia as witnesses to emotional events, Final technical report, US Department Justice, 2011.
Combined Pensioners & Superannuants Association, Housing insecurity and older people in NSW, 2018 at http://cpsa.org.au/files/180622_CPSA_Housing_report.pdf, accessed 30 January 2019.
D Tune, Legislated review of aged care 2017, Department of Health, 2017.
R Kaspiew et al, Elder Abuse National Research — Strengthening the evidence base: research definition background paper, Australian Institute of Family Studies and National Ageing Research Institute, 2019, accessed 2 April 2020.
R Kaspiew, R Carson & H Rhoades, Elder abuse: Understanding issues, frameworks and responses, Australian Institute of Family Studies, 2015.
NSW Bureau of Crime, Statistics and Research, Changing age profile of NSW offenders, Crime and Justice Statistics, Issue paper no 123, 2017.
NSW Justice Department, "Capacity toolkit" at https://justice.nsw.gov.au/diversityservices/Pages/divserv/ds_capacity_tool/ds_capacity_tool.aspx, accessed 26 April 2019.
NSW Government, Preventing and responding to abuse of older people (elder abuse), NSW Interagency policy, June 2018.
Ombudsman, Abuse and neglect of vulnerable adults in NSW — the need for action, A special report to Parliament under s 31 of the Ombudsman Act 1974, 2018.
S Ellison et al, Access to justice and legal needs: the legal needs of older people in NSW, Law and Justice Foundation NSW, December 2004.
NSW Government, Preventing and responding to abuse of older people (Elder abuse), NSW Interagency Policy, June 2018.
S Edwards and A Fontana, Legal information needs of older people, Law and Justice Foundation of NSW, 2004.
Seniors Rights Service, Abuse of older people: a community response, Final report, 2018.
S Ellison et al, Access to justice and legal needs: the legal needs of older people in NSW, Vol 1, Ch 10, Law and Justice Foundation of NSW, 2004.
Dementia Australia publishes respectful language guidelines at https://dementia.org.au/files/resources/dementia-language-guidelines.pdf
Books
S Field, K Williams, C Sappideen, (eds) Elder law: a guide to working with older Australians, Federation Press, 2018.
R McCullagh, Australian Elder Law, Thomson Reuters, 2018.
R Lewis, Elder Law in Australia, 2nd ed, Lexis Nexis, 2012.
American Bar Association (ABA), Judicial Determination of Capacity of Older Adults: A Handbook for Judges, 2009.
Articles
J Anderson, "Vulnerability of elders to physical harm and death: criminal law responses" (2019) 93 ALJ 631.
L Barry, "Capacity and vulnerability: how lawyers assess the legal capacity of older clients" (2017) 25 JLM 267.
L Barry, "'He was wearing street clothes, not pyjamas': common mistakes in lawyers' assessment of legal capacity for vulnerable older clients" (2018) 21 (1) Legal Ethics 3.
T Cockburn and B Hamilton, "Equitable remedies for elder financial abuse in inter vivos transactions" (2011) 31 Qld Lawyer 123.
E Moir et al, "Best practice for estimating elder abuse prevalence in Australia: moving towards the dynamic concept of 'adults at risk' and away from arbitrary age cut-offs" (2017) 29(2) Current Issues in Criminal Justice 181.
K Diesfeld, "Analysis of legal cases for prevention of elder abuse: decisions from New Zealand" (2011) 18 JLM 737.
R Berger, "Criminal behaviour among elderly: a look into what people think about this emerging topic" (2018) 7 Advances in Aging Research, 1-16, Scientific Research Publishing.
N Ries, "Elder abuse and lawyers' ethical responsibilities: incorporating screening into practice" (2018) Legal Ethics, DOI: 10.1080/1460728x.2018.1502965.L
E Webb and L Elphick, "Yesterday once more: discrimination and LGBTI+ seniors" (2017) 43 (2) Monash University Law Review 530.
N Ries, B Johnston and S McCarthy, "Technology-enabled legal service delivery for older adults: what can law learn from telehealth? Findings from an international review of literature" (2016) 10 Elder Law Review 1.
K Purser and T Rosenfeld, "Evaluation of legal capacity by doctors and lawyers: the need for collaborative assessment" (2014) 201(8) Med J Aust 483.
Al Wright and R Holliday, "Police officers' perceptions of older eyewitnesses" (2005) 10 (2) Legal and Criminology Psychology 211.
B Horner et al, "Grandparent-headed families in Australia" (2007) 76 Family Matters 76.
D Browne, "Avoiding elder financial abuse: safeguards solicitors should have in place" (2018) 41 NSWLSJ 79.
L Chiat, "When undue influence becomes elder abuse: the Public Trustee's intervention in pre-death property dispositions" (2018) 45(1) BRIEF 22.
E Webb, "Papering over the void — could (or should) consumer law be used as a response to elder abuse?" (2016) 24 CCLJ 101.
T Cockburn and B Hamilton, "Equitable remedies for elder financial abuse in inter vivos transactions" (2011) 31 Qld Lawyer 123.
C Sharp, J Schultz Moore and M McLaws, "The coroner's role in the prevention of elder abuse: a study of Australian coroner's court cases involving pressure ulcers in elders" (2018) 26 JLM 494.
---